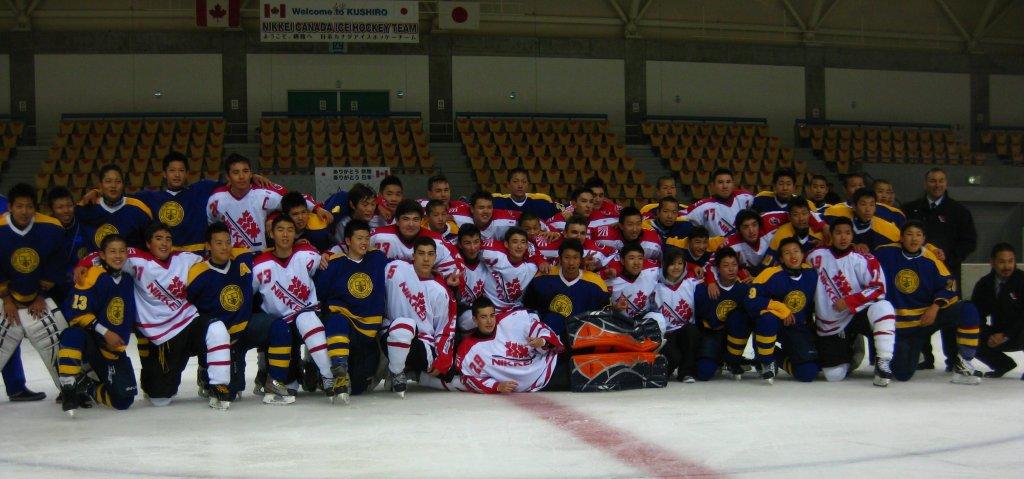 Day 10 was another day of exciting hockey and cultural experiences,,,the good times just keep on rolling.

Game one was a quite affair, against Tohoku high school as compared to last evenings game. There was only a handful of fans, no music and our boys looked tired. We managed only 5 shots in the first period and exchanged goals. 1-1 after one, thanks to Andrew.
In the second period the defensive play of the Tohoku team continued to smothered our offense and we managed only 2 shots and they scored once. 2-1 for Japan after two.
Our team found their legs in the third and Justin scored early on the PP tying the game. And with only 3 minutes left Captain Ashton completed the come back victory with a snipe from the top of the circle. 3-2 final.
After the game the parents got 'tuned up' on the sake brewery tour with the free samples. We then joined the team at the Itsukushima Shrine where a pray was performed on the teams behalf. And it also appears that the team officials (no names) staying with the team at the Onsen has driven them to drink early as well.
We were then all treated to an earth quake and fire drill at the local fire department, With only one group not being able to extinguish the simulated fire.
On to game 2,,, a completely different affair. Today was the last day of school and many students and families attended the game and the Kogyo team had professional cheerers just like last night's team. This really creates an awesome atmosphere for the game.
The atmosphere must have been too much for our players as we took 4 penalties in the first period and found ourselves down by 3 goals.
Coach Nak has some stern words for the team between periods. Our boys responded and came out to play hockey and that they did. After continuous press for the first half of the period they were finally rewarded with two quick goals (Justin and Carter) to narrow the margin. However the Kogyo team countered with a screened shot from the point, 4-2 after two.
The boys continued the pressure in the third and played good sound hockey and once again were rewarded late in the period with a scram-bly goal by Mathew that the referee never saw cross the line but the goal judge did. But within a minute the Kogyo team got their own scram-bly goal before we could get the extra attacker on. 5-3 final.
That's it for this installment, talk to you all tomorrow.
Glenn
---