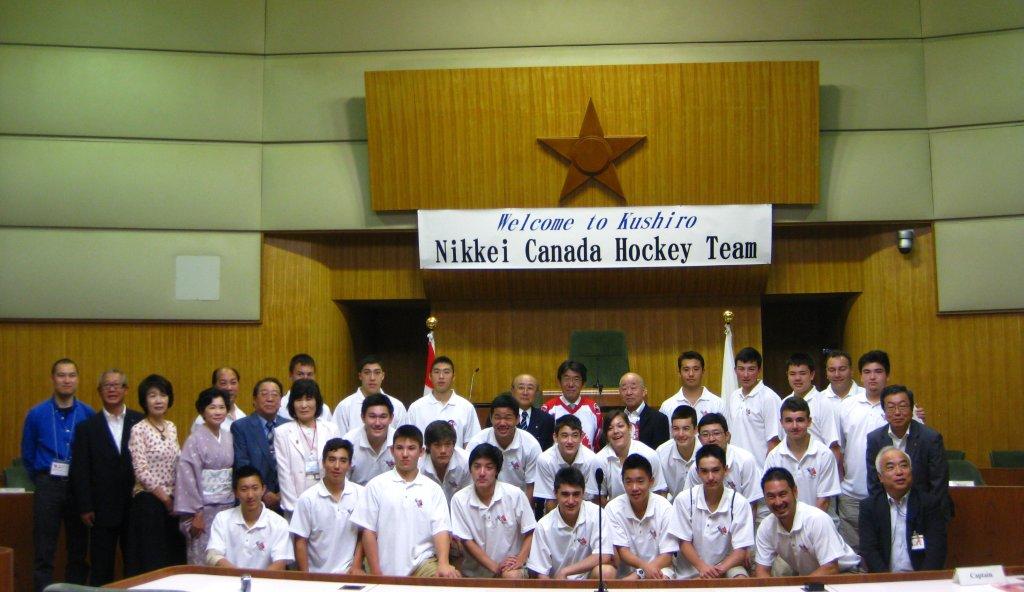 Hey it's me again Day 8 is complete.
The first order of business was to met the Mayor. A rather formal affair, which involved several speeches including one from our very own Mike Saito. Mike spoke well on behalf of the team and parents relaying that the Japanese people were very honest and hard working. To emphasis his point Mike told a story but the point might have been lost in the translation, as it sounded like Mike was comparing the Japanese people to mice (you really had to be there).
After that well needed comic relief, we exchanged gifts, said our thank yous and good byes. We then walked the town, stopping a couple of more times to shop (Nak must be getting a kick back from the local merchants) and then a Japanese spaghetti lunch.
The players went back to the Onsen for a much needed nap after an evening of rabble rousing. (so I heard)
On to the game summary….. I actually wasn't at today's game because Rachel skated with the Japanese Women's team today and Leslie and I went there to watch. But this is what I heard….it took a while for us to get the first goal but after we scored the team worked Nak's system perfectly and tallied two other goals before the end of the 1st.
There was no scoring in the 2nd and we spent a considerable amount of time in the penalty box….hard to work Nak's system with only four players.
In the third the Konan High School team finally scored, elevating their play as they began their come back. We spend a considerable amount of time in the box again.. We countered with one but the Konan team countered that with two more, The last 1:30 minutes (with Konan's goal empty) was spend in our zone but we hung on for a 4-3 victory. This is only the second time Nikkei has beaten Nak's old high school team in 6 visited. 16 pims to 2 pims for us and goal scorers today were Andrew (2), Justin and Tanoshi.
That's it for now…
Glenn
---