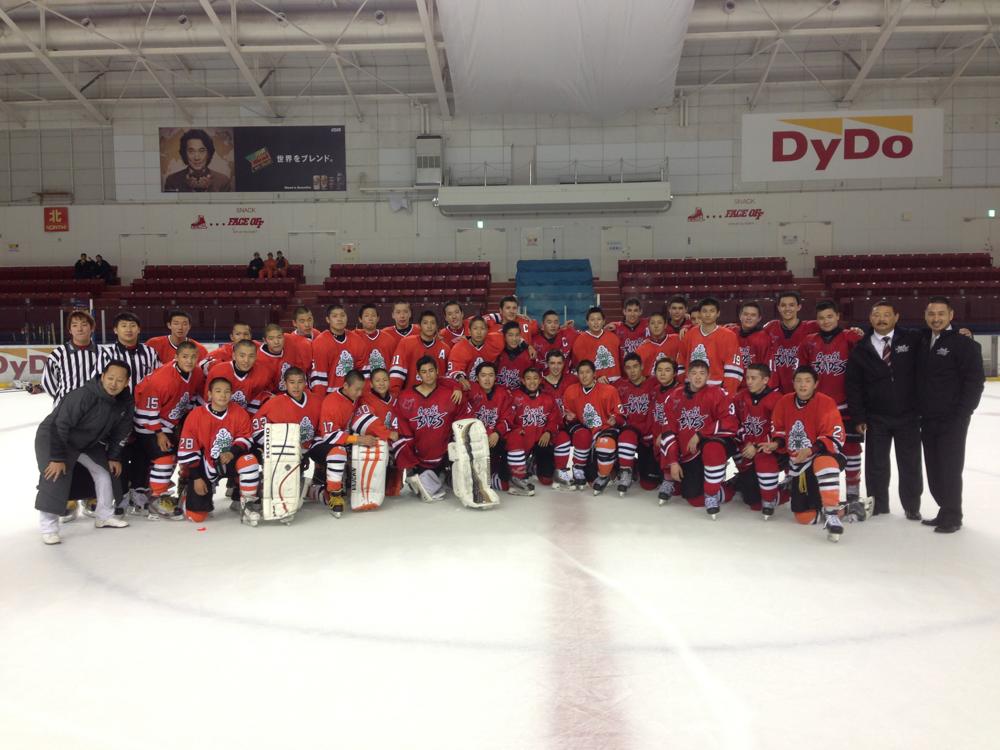 Today's weather report: sunny with light clouds; 32C that feels like 41C and boy, did everyone of us feel like we were melting!

The team prepared for their first game day by filling themselves at the massive Prince buffet. Ryan Okino, who professed 20 hours into his trip that he was tired of Asian food, ate his fair share of pancakes – 11 in total. Jet lag was showing signs as several players were reaching for that morning cup of coffee….10 hours to game time, here's hoping they wake up!
At 9:30am (and not a minute later), the group boarded the bus to Saitama High School. All is quiet at the back of the bus. Anticipation of meeting their competition or quiet contemplation? Nak and Tak talked hockey strategy up front.
3000 Jr and Sr high students: 250 teachers. $10,000 annual tuition (if you are accepted). Of 60 athletic teams, 40 are heading to their respective nationals. Impressive!
We were given the honour of viewing presentations of the following sports:
Fencing, rhythmic gymnastics and archery. Entering the judo gym, the boys were offended by the smell which oddly enough was very reminiscent of their hockey gear! At Kendo, 8 of our Blades were given bamboo poles and told to hit their (female) opponents. Adam Gilker and Nick Kuramoto were very reserved; Adam Kamide and Karl jumped right in! And finally Gymnastics – this team spends an hour on each of 5 apparatus' every day.
While we explored the campus, the air was filled with the sounds of the many marching band students practicing in the open-air passageways and we were almost run down by the nationally ranked badminton team doing laps around the indoor track.
Our tour ended with a special thank-you gift to the school vice-principal. Overall, an amazing presentation of dedicated young people.
The Asahi Blades took to the ice tonight to work their much anticipated Nak a' Tak. Chalk this one up to nerves or a big, soft ice surface or the fact that the orange vs red jerseys was far too confusing for their jet lagged minds.
Highlights of this 9-1 opening game loss to the Samurai Beavers:
Karl absolutely stood on his head and kept them to single digits. Keito broke 2 sticks, yes 2. We scored a goal against the #1 nationally-ranked team – Ken from Keito at the 5:59 min mark of the second period. We held them to two goals only in both the first and third periods.
The boys have cleaned out the local 7-11 for post game snacks on the bus back to the hotel now departing at 12:44am. Morning comes quick and we venture to Kushiro.
Oyasuminasai!
Stacey
---