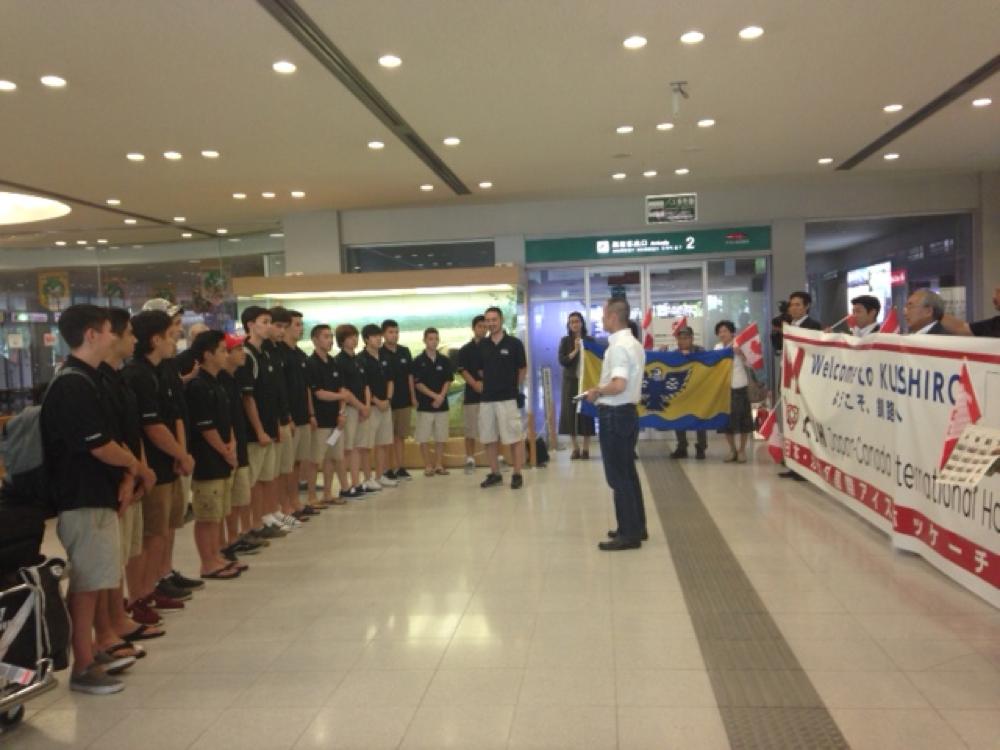 A weather reprieve today – 27C but feels like 38C. Phew! We are headed to Kushiro where it is more like home at 17C and cloudy with sprinkles.

After our late night, most made it to breakfast for their last fill of Prince buffet. Captain Nimi and his trusty roommate Okino needed a wake-up call. Nimi made up for it by loading the bus of all the baggage along with our treasured goalkeeper Andersson.
We arrived in Kushiro to much fanfare and a grand welcoming. The boys are definitely being treated like celebrities – flashbulbs popping, video cameras rolling, Canadian flags waving and articles in the local newspaper already!
Kouji, chair of JCIH committee to bring the boys to Kushiro, was first to speak. He welcomed the team and thanked them for coming, he touched on the hardwork and planning that went into creating this opportunity for the Blades and hoped that they all enjoy their time here in Kushiro.
Captain Nimi was next to speak. As Nak translated for the welcoming committee, on behalf of the Asahi Blades, Nick thanked everyone for their efforts in arranging our stay. He stated that they all looked forward to making new friends, to playing some good hockey and to learning more about the people of Kushiro.
Larry spoke on behalf of The City of Burnaby and said he comes bearing the official invitation for Kushiro to attend the 2015 celebrations of their 50 year sister city bond.
The gear was loaded into a small minivan to be transported to the Kushiro rink. We hope the driver makes it, not succumbing to the noxious odour…The team boarded their bus for the week, all smiles and waves as they bid sayonara to their dutiful companions and cheerleaders, and headed to the Onsen. Now in the hands of Tak and Nak, oh yes, and Larry (if he can keep up and get to the bus on time that is!).
The Blades dropped their gear at the Kushiro Ice Arena and caught a bit of the Nippon Paper Cranes practice before setting up camp and having dinner at the Onsen. Ask Kamide how dinner was, "I loved it!" stated with a huge smile.
Evening was spent wandering the Aeon department store/mall shopping for snacks, or if you were with the Kollmuss brothers – Pokemon cards to stock their arsenal. A special moment was receiving the Japanese JCIH player program and copies of the local advertisement of the team.
The parents are wrapping the night at the Prince Hotel raising a toast to a win (before we leave). We trust that Richard and Nak have tucked Larry in at the Onsen, oh yes, the team too.
Kanpai!
Stacey
---