2014 ASAHI BLADES DAY1 & 2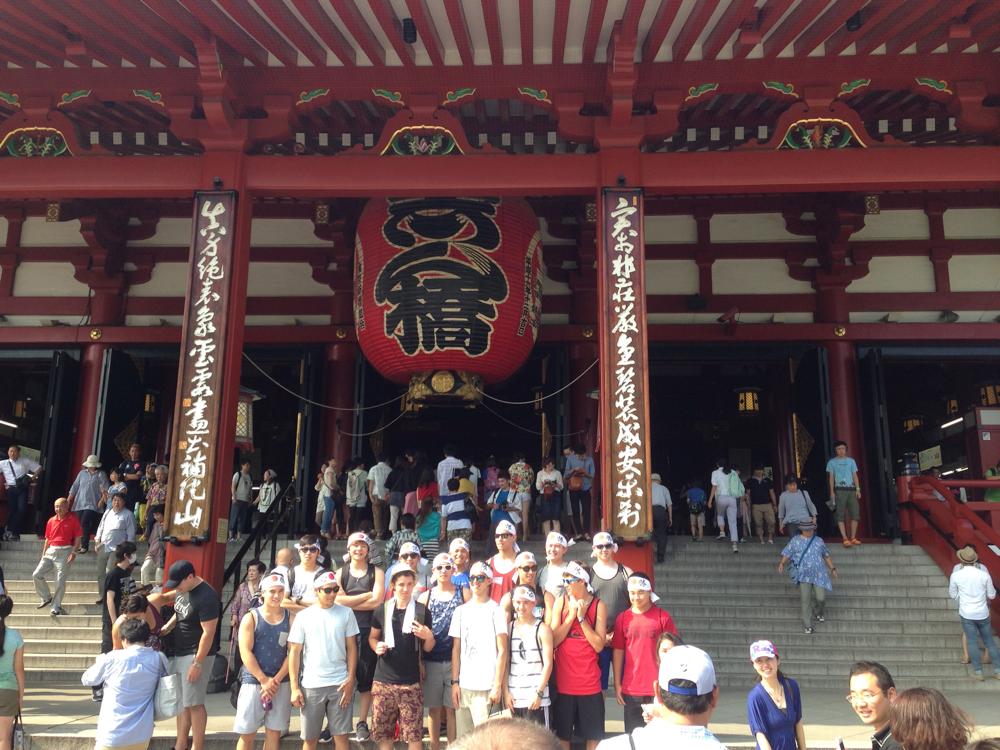 We made it!
After a long but uneventful flight, we arrived in Tokyo – every stick too. Upon clearing immigration with only a few unticked boxes, we were greeted by Karl's parents and a bright pink sign reading "Welcome Nikkei Boys" being held by Nono's parents. In true Japanese tradition, Mrs. Mizushima was bearing gifts for the returning families. Karl was our translator while we breezed through our itinerary and the alumni game with them.
The boys Packed like sardines onto the bus – with hockey bags and suitcases barricading them in the back 40. And the team bonding began. By the animated conversations taking place, one would never know that it was 1:30am for them!
The bus surfed it's way to the Shinagawa Prince Hotel to the beat of the thunder and lightning and the torrential downpour – no jackets required given the tropical 27C.
Our entire group ventured out in the rain for some Ramen then a quick look around. Ten o'clock curfew and all was quiet.
This morning found everyone testing the fabulous breakfast buffet at the Hapuna Restaurant. We gathered at 10:00am, received our train passes from Nak and headed off on our long day of sightseeing.
First stop – Harajuku
A very bright and lively fashion area. We spent 2 hours exploring and shopping on our own. The clouds cleared and the heat of the day set in.
Second stop – Asakusa
A district in Tokyo famous for its temples. Jarred made friends quick by handing out Canadian flag pins. He then had to pose for many pictures. I believe he even had one elder gentlemen follow him to the temple for more photos!
A little time to their own means saw the team of Warriors show up at the next meeting place on the steps of the temple. All sporting headbands that translate to 'we will win', they were lined up on the stairs posing for pics and inviting the interested ladies around to join them.
Third stop – Akihabara
This stop, known as the electronics district lived up to its name. A few received a scolding for testing the speakers too loud in the store. I guess they found what they were looking for as Captain Nimi along with Adam Gilker both walked out with boxes in hand.
Back to the hotel for a quick bite then off to Shibuya to see the famous intersection crossing and the bright lights of this fashion district.
Ten o'clock curfew and all's quiet. According to the Gilker's fit bits and pedometers, we walked in excess of 10,000 steps today. Nak warned us that it would be 10k a day. Hmm…I guess we should always listen to Coach?
Tomorrow brings our first high school visit and hockey game. Wish them well!
Oyasuminasai (goodnight!)
Stacey
---