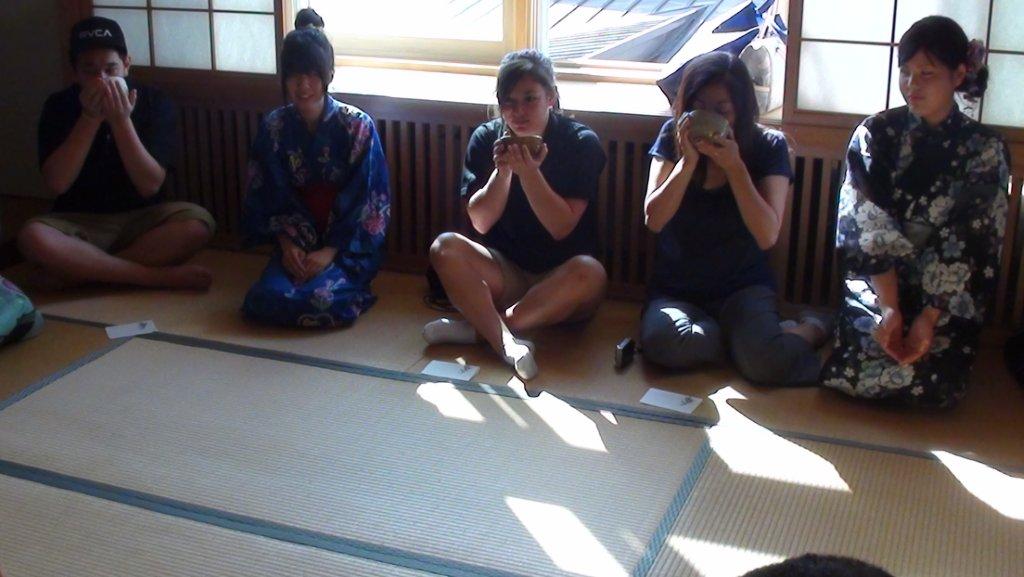 Day 9 is complete and not without lots of excitement and culture.
We all had a bit of a reprieve this am as the itinerary started with a live radio interview with three Nikkei players at 1 pm. The parents all gathered around a transistor radio in the hotel lobby hoping to hear an English word or two. With help from Diane and Keiko we all managed to understand the interview and how well Ashton,Tanoshi and Rachel represented the team and described their experiences to date.
Later we all met at Nak's old high school (Konan) for a real experience in Japanese culture. We were greeted by the baseball team and then the band performed several musical pieces for us. We were then ushered inside which required indoor foot wear which isn't made for large white guys (like Joe and I). We were then treated to an awesome taiko drum performance followed by hands-on lessons in the tea ceremony, kendo and calligraphy.
Then off to the rink for some serious business. Team Nikkei played Bushukan, Kushiro's numero uno high school team. This team even had its own professional cheering section, well over 100 strong, 200 loud hailers, rehearsed songs, cheers, dances and a drum. Our parent cheering group were no match but we gave it the old college try and did manage to get them to participate in the Canadian wave. Our largest crowd to date, I'm guessing 300-350 people.
The game began on a positive note as Justin scored on the first shift but quickly went side ways as we took two simultaneous penalties on the same shift….you should have heard the professional cheerers then, deafening.
But our PK was outstanding and it needed to be as we spent the equivalent of one whole period short handed with our 10 minors and one misconduct.
Half way through the first Bushukan scored on an gratuitous bounce off the side boards that caught everyone by surprise. 1-1 after 1.
At 16:25 in the second Bushukan scored again on an odd man rush with some nice finish. We counter rather quickly by a nice individual effort and deke by Nimi. But near the end of the period a pretty three way tic-tac-toe passing play ended in a tap in for Bushukan team, 3-2 after 2.
Bushukan played tough and scored early in the third but we countered again on our first PP (Taylor) from the high slot to keep it close. But Bushukan just kept coming and took advantage of minor mistakes tallying two more, one into the empty net for a 6-3 final.
Tomorrow's itinerary is action packed again, including two games, so that's it for now.
Glenn
---