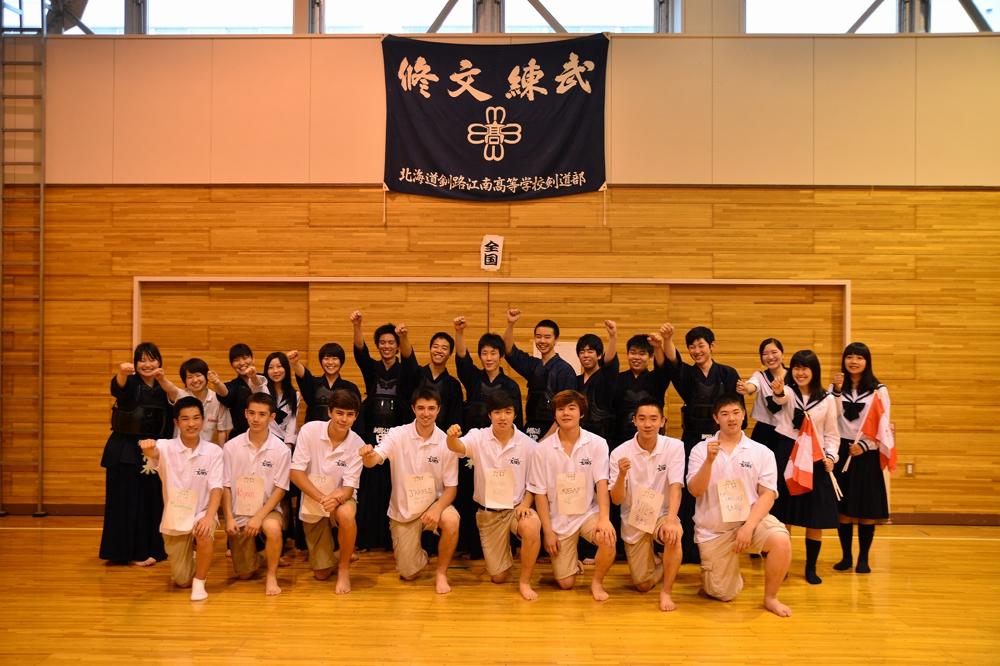 Saturday morning brings Game 3 for the Asahi Blades against Hokkai High School Hockey team at 10am. The boys are looking a little foggy, similar to the sky at the festival last night. Once on the ice, the Blades show confidence and control as they kill a penalty and skate evenly with their opponents. Hokkai strikes first and score two within 1:48 min to go up 2-0. Gilker was robbed of two great chances as he worked to gain a point back before period end.
Play was an even match during the second period with Andersson stealing many great shots from the pressing opposition. With 1 min to go, a shot from the blue line makes its way through the crowd in front of Andersson and the period ends with the Blades down 3-0. A quick scrape brings hope that our team can regroup and find their way onto the score board. A scramble in our crease crosses the line during the first minute back on the ice. This friendly international match ends on the books as a 4-0 loss for the Asahi Blades.
After bento box lunch, we arrived at Kushiro Konan high school where the players met with their home stay families. We donned brown slippers today and were escorted by young ladies with Canadian flags to the main gym. After a quick welcome, we were treated to a beautiful a cappella rendition of O Canada sung by five young ladies and two young men. Next up was the Kushiro Konan Taiko drum club who performed "Dancing Crane" and "Running Horses" for the group. All members were perfectly timed with their drumming, stick twirling, bouncing and smiling as they cheered through their performance.
Our lessons in the Arts continue with Shodo by the Calligraphy club. After viewing one example, the club chose three players to test their artistic skills – Merlo, Keito and Kollmuss. All three showed great painting talent and upon review from the instructor, were told that they had very strong hearts and that they hold a Canadian win within themselves. Leslie Gilker took to the canvas for team parents. Her evaluation – she is very gentle.
We were split into two groups to attend the next two displays of art by the Kushiro Konan students. In the martial arts gym, we learned that Kendo was a form of Samurai training. The reason the right foot is always leading in this sport is that their swords were held on their left hips. The Kendo club introduced themselves, told the Blades that they will watch a game, then be in for a treat (Nak translates laughing).
To score points, there are only 4 spots to hit – head (MEN), throat (TSUKI), wrist (KOTE), side body (DO); you must call out the spot hit to score a point. Two points wins the game. After the game, the boys were paired off with the Kendo kids and had private lessons. They have come to Japan has hockey players; three of the Blades are returning budding Kendo masters – Kamide, Kollmuss and Koyanagi.
Our second treat was being special guests to a Japanese Tea Ceremony. Live Japanese dolls in colourful yukatas stepped us through a proper tea ceremony. Part of the fun was teaching the Blades how to make the tea. Keito, Takahashi, Koyanagi, Merlo, Gilker, Kamide and Samantha Gilker stepped up to the challenge. Hardest part of this task after sitting Japanese style, was the boys having to answer questions about their girlfriends.
Game 4 was played tonight against our hosts of the day and Nak and Kouji's alma mater, Kushiro Konan High School. Tonight's game has the largest crowd so far. Despite Konan's efforts to exhaust us, the boys are finding their Canadian blades. Konan found the net after hitting two posts then scored a quick power play goal to go ahead 2-0 within the first 10 minutes of the game. A 2-on-1 by Takahashi and Nimi was the team's best chance this period. Merlo played great defence on the penalty kill blocking shots to run the clock down.
Hoover and Koya's host family are here to watch. The little kids have custom made fans with their names and numbers that they are waving in support – our Blades have seen these and are smiling ear-to-ear.
The line of Nimi, Lee and Takahashi is clicking tonight and causing many turnovers and exciting scoring chances. A power play goal puts Konan ahead 3-0 which is quickly answered by Gilker from Nimi to put us on the scoreboard at 5:42 of the 2nd. A diving block by Napper saves an open net wrap around and Captain Nimi is mixing it up with Konan's Assistant who is easily an inch taller than Okino. Early in the third period, a power play goal – Takahashi to Keito – and it's a one goal game. Konan finds the net two more times to put the final score at 5-2 Konan over the Asahi Blades. Big cheers are awarded to Keito for putting an opponent over the boards at our bench.
After the game, we gather in the lobby to see the Blades off with their home stay families. The boys are sent out as follows:
Kuramoto and Yee
Okino and Hawkins
Andersson and Napper
Kamide and kollmuss
Merlo and Gilker
Nimi and Verhoeven
Hoover and Koya
Keito and Takahashi are fending for themselves at two different homes.
Now that the team is farmed out, the coaches and our wonderful supporting crew have joined the parents for our special dinner. More beer, more sake, more food….
Kanpai!
PS…Taki has given a speech stating that our 2014 boys are the most polite, entertaining and beat behaved to date. Cheers to all of us parents!
---