2018 Asahi Blades: DAY1-2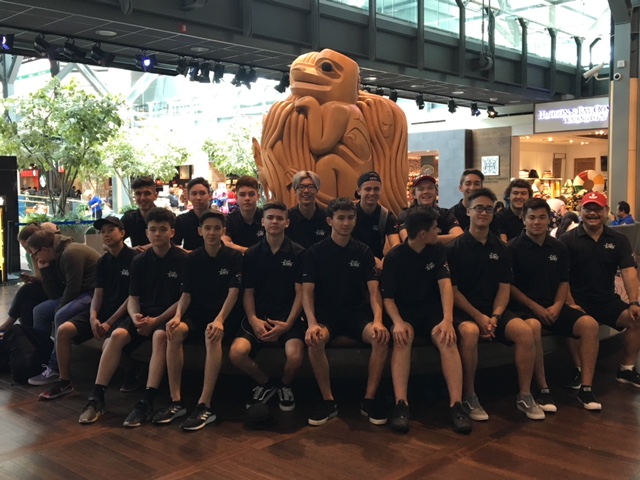 The time reads 11 am as the player hopefuls arrive at YVR, ready to check our bags in. As we say goodbye to our families, the reality starts to kick in that a trip of a life time is about to take place.
The plane ride was around 9 and a half hours, which was stock piled with a combination of sleep, movies, listening to music, and two free meals. We were treated right away as if we were the prime minister by the flight attendants, and it was very cool to witness their kindness.
The second plane was a lot shorter, clocking in at around 1 hour and 40 minutes. This was followed by a bit of a long bus ride to the hotel at Sapporo, acquitted with a bento box to serve our stomachs. Driving through downtown Sapporo, we got our first small taste of the bright night lights of Japan.
On our first day in Sapporo, both players and parents woke up and went down to the hotel restaurant for breakfast. It had both Asian and western food. After breakfast, players and parents went back to their rooms to prepare for a day of sightseeing in the city of Sapporo.
The first place that was visited was The Historical Village of Hokkaido. When we arrived we walked up a large staircase that lead to a big building. From there we entered the village, with old buildings on all sides of us. There were general stores dating back to the 1900's, old suspension bridges, photography buildings and more. We were able to witness what life was like in Japan's earlier times. After looking around we got a bite to eat and left.
Our next stop on our dog of sightseeing, was the government building. Here we were presented with the honour of meeting the Governor of Hokkaido. He told us a little bit about his early years as a young adult and about his time in Canada. Afterwards, the team presented him with a banner and small jersey signed by all the players. In return, we received some very cool gifts.
After all the excitement, we returned to the hotel to prepare for our first game. After an hours rest, we went to the rink and played Hokkai. It ended in a 4-4 tie. Both sides played well. After the game, both teams went to an Italian restaurant where we ate, bonded and had a great time. After the festivities, we returned to the hotel and that concluded day 1 in Japan.
---
Written by Jordy Engleson
---